"If the answer is not education, then you're asking the wrong question." - Zachary Stein
In this past year, the Spacemesh community proved to be a positive force in the world; every time it banded together for a greater good, beautiful things happened.
For those of you who aren't familiar with the Spacemesh Social Causes program, branded #WinningTogether, here are some of the things the Spacemesh community achieved through collaboration and generosity:
Raising money to feed hungry kids in Peru including 5 ETH, from creating and selling the first Spacemesh community-created NFT
Helping fight online censorship with OONI
Smeshing towards a greener world and planting 1,250 trees
** You can find a more detailed account in this Twitter thread.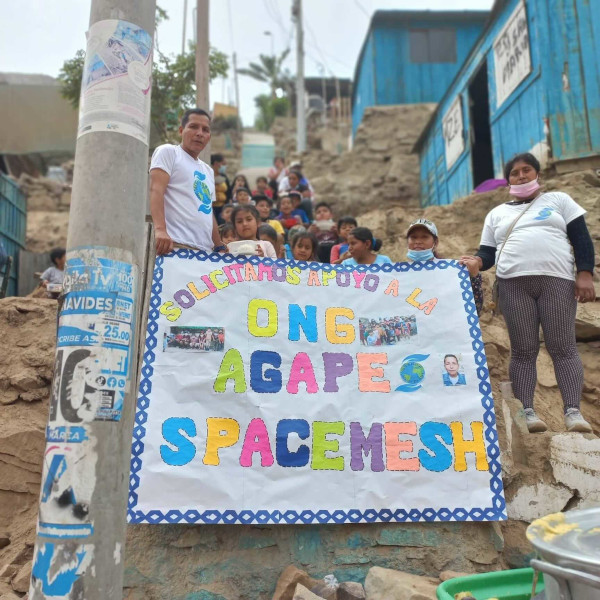 The next frontier: Education
If there's anything we've learned this past year, it's that the Spacemesh community is stronger together, and can accomplish great things in tandem.
This coming year, we want to employ the power of collaboration to grow together, both as a community and as individuals.
We feel strongly, that education is the only answer to the current human condition. Humanity is facing pressing challenges, spanning from the environmental crisis, through war, famine, and the rise of dictatorial regimes, and all the way to a profound identity crisis. And the worst, but perhaps also the most hopeful thing about this situation, is that almost all of these crises are self-inflicted.
We are part of a growing movement that sees education as the only solution to these crises. Certainly, the answer is not waiting around for governments to solve things for us – they clearly can't, and their centralized and decrepit systems can't handle the nuances or scope of the situation.
Rather, the only way to equip ourselves with what's needed to face both now and the future, and secure a better future, is education.
"Virtually every change that our worldwide culture needs at this time depends upon education itself. So there literally isn't a more important topic anywhere." Ken Wilber.
But what we need is not what is currently dubbed as "education". Not this obsolete, static, scarce, and exclusive system. What we need is education that is abundant, adaptive, flexible, and more importantly universally accessible.
And as a community, this goal is something we can fulfill, together, through a peer-to-peer learning system. We like to call it The Serendipity Engine.
The Serendipity Engine
Serendipity is an unplanned fortunate discovery.
In our vision, visiting the Spacemesh Discord will be an opportunity to stumble upon and explore something new and surprising, and get educated in the most profound way.
We invite you, the Spacemesh community, to become teachers and mentors, and share your passion and compassion, your knowledge, expertise, and/or skills with the rest of the community.
If there is a realm of knowledge or skill that you are particularly enthusiastic about, if you are exceptional at guiding others, or if you are experienced in or informed about something, we invite you to dedicate one hour a week, over the course of a few months, to share that with other community members.
You could make yourself available for one hour a week to support another community member's life change or journey, or you could answer questions about mining. You could teach them to cook rice, how to write code or how to write poetry. You can mentor for self-growth or anything you love and are good at.
Peer to Peer learning has huge emotional benefits. Studies have shown that it generates trust, which amplifies the ability to learn. It enhances deep learning, develops critical thinking and increases comfort and openness. It is more holistic, it's about human connection and serendipity. It's about inspiring and being inspired.
We invite you to be among the pioneers of the Spacemesh Peer-to-Peer Community Mentoring, called The Serendipity Engine (a term coined by Jordan Greenhall whom we adore).
To apply, please fill out this short form.
Keep Smeshing!